Professional Presentation Paper
A low cost and durable solution for indoor displays. Perfect for trade show presentations and in-store applications. Achieve up to 85% match to true color. With UV ink technology, outdoor applications are also possible. Combine with our range of finishing solutions for a long lasting, professional display.
Surface
Finishing option
Mounting
PAPER
Non-reflective
Lamination
All materials
POLYGLOSS
Reflective
Cold Lamination
All materials
Indoor and Outdoor Vinyl Banners
Self adhesive vinyl is prefect for indoor and outdoor displays of all sizes. Add extra protection against the elements with liquid lamination.
Surface
Finishing option
Mounting
PAPER
Non-reflective
Lamination
All materials
POLYGLOSS
Reflective
Cold Lamination
All materials
PAPER
Non-reflective
Lamination
All materials
POLYGLOSS
Reflective
Cold Lamination
All materials
Backlit Film for Light Boxes
A professional media to promote products using light boxes. Choose this eye-catching product to highlight your unique services.
Banners
Extremely versatile material for large scale displays. Perfect for outdoor use, our banners have virtually no size limit. Our trimming and finishing methods allow you to easily setup your banner in varying environments.
Lamination
A durable waterproof finishing to protect the print from scratches and weather. We offer Gloss, matte, Lexan, Erasable, Cold Gloss and Hot Matte.
Gloss and Matte
Professional and popular finishing option due to it's high quality and low cost. Gloss lamination provides a glass-like finishing and makes the colours on your print pop. Matte lamination blocks out most of the reflection. Both gloss and matte laminated prints can be rolled for shipping.
Lexan
A very flexible and durable material designed for professional trade show exhibitors. Apply Lexan laminated prints to curved display walls and surfaces easily using velcro. Remains flat even after rolled during transportation or storage.
Cold Gloss and Matte
Complete your custom project by coating delicate papers and unique surfaces with a protective layer.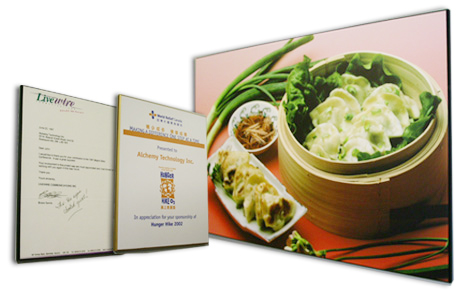 Mounting
Perfect for commemorative plaques, long-lasting decor and durable commercial displays. With our flatbed printer, we can print directly on the surface to output any custom design.
Foam Board
A low cost and easily maintained mounting solution. Foam board can be conveniently transported due to its light weight and comes in various thickness options for increased durability.
Gatorboard
A very strong foam mounting solution that is stronger and lighter than traditional foam board. Perfect for longer term displays.
Sintra
A hard plastic, water resistant material. It is more durable than foam and gatorboard. Different thicknesses available from 2mm to 1/2".
Wood-Based
Wood boards are perfect for gallery use, home decor and corporate gifts. Mounted on an easel stand or hung on a wall, our high quality boards will last for many years. The edge is trimmed gold or black.
We are happy to assist you with choosing the best finishing option for your project. Feel free to contact us if you have any questions.
Fabrics
We offer a range of high quality fabric options for your specialty projects. Create eye-catching displays and gallery worthy decorative pieces.
Canvas
Perfect for art prints, we can print directly on canvas to give your photographs a high quality cloth texture. Mount directly on a wood frame to create realistic paintings.
Poly Charmeuse Satin Fabric
An extremely versatile fabric material that can be used for almost all applications. Flexible and slightly stretchable, this polyester based fabric reinforces the vibrancy of waterproof UV inks. With it's silk-like texture, this fabric can be used for apparel design.
T-shirts
Print directly on t-shirts and other articles with photo-realistic precision. Softer than screen printing and much more cost effective for limited items. Perfect for custom company shirts and design prototypes.
Glass Tiles
We print directly on the underside of glass tiles with photo-realistic prints and patterns. Perfect for custom tiles for kitchen and commercial store use, coasters or decorative glass souvenirs. Photo realism and vibrant inkjet colours on a unique medium.
Digital Flatbed Printing
With flatbed printing technology, we can print on virtually any rigid or flat surface using precise and vibrant UV ink. Promote using high quality outdoor signs since UV ink is waterproof. Get seamless quality by printing directly on extremely durable Sintra boards, wood and even metal. For specialty projects, flatbed printing opens up the possibilities for glass, fabric and hybrid materials.
Print directly on
Foam boards
Gatorboards
Sintra
Lexan Boards
Cloth
Card paper
Coroplast
Canvas
Glass
Wood
Metal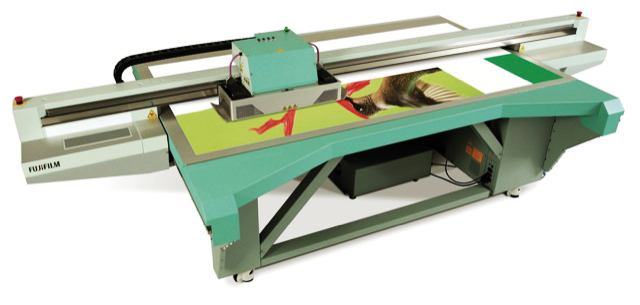 The ultimate freestanding banner stands. Ideal for trade shows, point of purchase and any promotional campaigns. Simple, inexpensive and easily transportable with the included carrying bag. With our high quality photo realistic output, banner stands can be used for any application.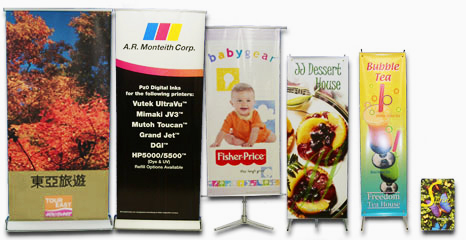 | | | | | | | |
| --- | --- | --- | --- | --- | --- | --- |
| Click for detailed views → | ProRetractable 37.5" Banner Stand | ProRetractable 32" Banner Stand | Easyhang Dispay | Easy X Stand Ultra | Easy X Stand | EasyMini X Stand |
| Size | 37.5" x 80" | 32" x 80" | 32.75" x 78" | 23" x 64" | 18"x 65" | 11"x 17" |
| Price with banner printing | $400 | $350 | $250 | $150 | $110 | $25 |
| Reprint | $180 | $150 | $100 | $80 | $60 | $10 |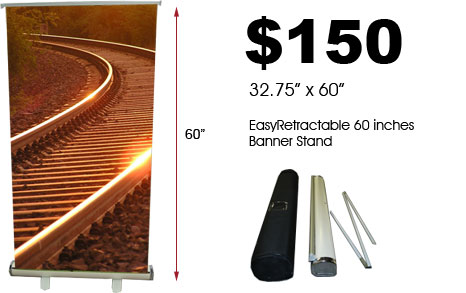 EasyRetractable 60" Banner Stand
Easily transport this lightweight and low cost bannerstand to your next trade show or presentation. Perfect for temporary displays.
CNC Routing
Using our high-powered CNC router, we can create completely custom shapes from our plastic and wood based boards. Create unique promotional items and display surfaces for your projects. Combined with flatbed printing technology, your point of sale campaigns will stand out from traditional displays.